Teacher Tuesday Faculty Highlight – Mr. Karim Rushdy
May 12, 2020
By Karim Rushdy
At first glance, most people assume I'm North American. However, I was born in Haiti and raised in India, United States, and Canada. My wife is Korean/Swedish and we have two children. Teaching at an international school is a good fit for me. I love being exposed to various cultures and languages. I was raised in a family that follows the teachings of the Baha'i Faith; I have an inherent understanding that we are all one. I believe our diversity should be preserved and, in fact, celebrated – while striving everyday to build unity in diversity.
Some believe in destiny. It seems to me that I was guided to Nancy Campbell Academy rather than the other way around. As a young musician, during a tough point in life, my career in music was not going the way I hoped. I actually said some deep and heartfelt prayers, which thankfully gave me complete clarity. I decided to sell my iPad and buy a one-way plane ticket to Ontario. From there, I would travel to North Carolina for a Junior Youth Empowerment camp and volunteer for a couple weeks. The opportunity to work at NCA for their summer ESL and Arts program was presented to me and I thought, "let me try this out."
I was immediately hooked by the vision and principles that this school was founded on. Everything about moral leadership capabilities, the importance of the arts, striving for excellence, and service to others really resonated with me and gave me a lot to think about… and to write about in my music. I had so much fun collaborating with the students and enjoying the incredible talent at NCA. It was a glorious first year where we made the 1nes Project, opened the Cage Café, The Rap Camp, and launched amazing media projects; but most importantly for me…. I met my wife, Julie, who was also working at the school.
Since that time, my relationship with this school has only grown deeper. I see myself always being connected, always checking in – as a musician, a teacher, a mentor, or just as a friend of NCA. This is the power of value-based education and the visionary leadership of Gordon and Ellen Naylor who founded this inspiring institution 25 years ago.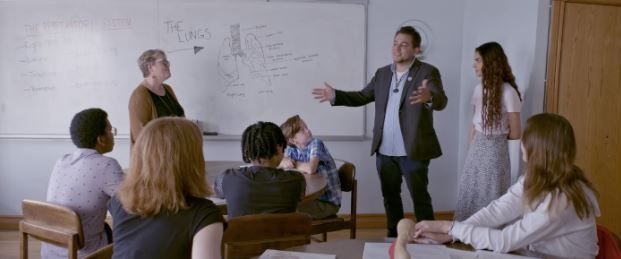 I continue to pursue music as a professional hobby. I use my talents in music and my ability to teach to show my students any genre (especially rap) can be positive and uplifting. I am 100% inspired by the Holy Writings of the Baha'i Faith in my songwriting, and I'm excited about reaching more and more people with this message of hope. Through music, I feel I can fully express the inexpressible. I can actually forget my own insistent self and allow something much greater than me to shine through. This is what I bring with me to every class – hopefully the students can feel it!
An interview with my musical collaborator, Nabil, was recently released (it was filmed at Nancy Campbell Academy in the school's media studio):
You can listen to Mr. Rushdy's professional musical projects here. His music is also available on Spotify, Apple Music, Amazon Music, SoundCloud, Youtube and various other streaming services.
Mr. Rushdy is a lead actor in an upcoming TV series production, Karim & Honey, that aired on YesTV on August 23rd, 2019. This pilot episode was filmed at Nancy Campbell Academy. You can find more information about this upcoming series here.