From Shanghai to Paris, from the Canadian Arctic to Argentina, Nancy Campbell Academy has welcomed students from all over the world to experience authentic happiness.
We have demonstrated our capacity to inspire leaders of the future. Our students do their best to contribute meaningfully in service to their communities and the world, while achieving excellence in their academics. In the spirit of the pursuit of happiness through service to humankind we are confident students will be inspired to learn, to grow and achieve their true potential.
Student Testimonials
Hear from some of our students about their experiences and journey at Nancy Campbell Academy.
Contact Info
Nancy Campbell Academy
Stratford, Ontario
Aurora, Ontario
Enroll Today at Nancy Campbell Academy!
Stratford Ontario Campus
Nancy Campbell Academy is a not-for-profit, boarding and day school located in the city of Stratford, Ontario, Canada. Graduates from Nancy Campbell are currently studying in well recognized and respected universities in Canada and around the world.
Aurora Campus
Nancy Campbell Academy is proud to open our new campus in Aurora, On. The Aurora campus is our second school with a separate Board School identification Number (BSID). It is our first of many day schools that we plan to expand across North America. Opening September 2019 Nancy Campbell's Aurora Campus will offer classes from Grade 7- 12.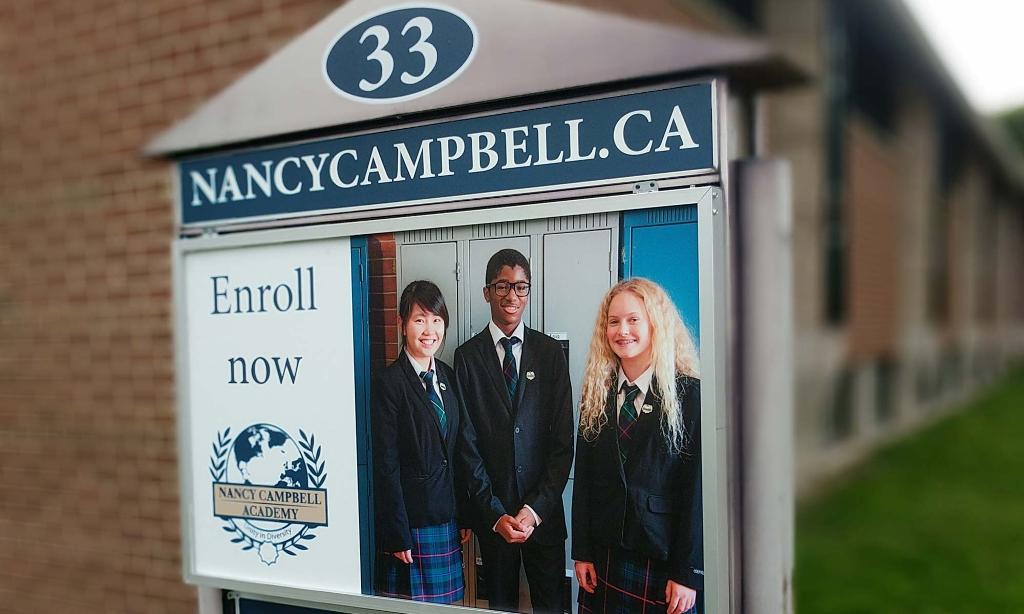 Our Educational Program
Teaching the youth of today to unite and act tomorrow to create a better world.
Although Nancy Campbell is non-denominational, this vision is inspired by the Bahá'í Faith. A Bahá'í inspired education consists of moral education, the promotion of unity in diversity, the belief that men and women are equal, and that youth can move the world.
Inspiring Education Begins with Our Teachers
A Nancy Campbell education is an education with a world-embracing vision.
Each member of our faculty and staff is committed to the education and development of every student. To that end, teachers and administrators regularly spend extra time with students-in-need, helping them master their studies, deal with personal matters and prepare for the next stage of their education.