Neena Dancing Her Way to Success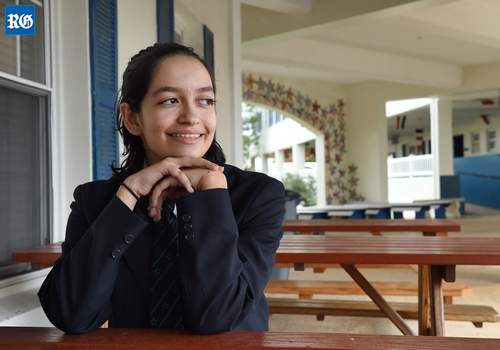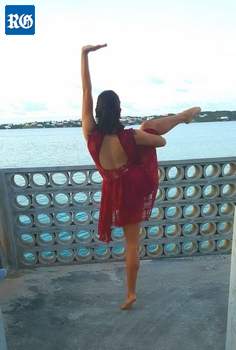 Neena Fagundo has been dancing for as long as she can remember.
The 15-year-old juggles ten hours of dancing with her school work every week and loves to write in her spare time.
The Somersfield Academy pupil has been awarded scholarships for excellence in dance and English, and plans to pursue her passion for the performing arts at the Nancy Campbell Academy in Canada.
"It's something that I enjoy because being able to dance tells a story that words can't convey and I love the ability that I have to touch people with my dancing," Neena said.
Her most recent performance included portraying the fiddler in her school's production of Fiddler on the Roof on Saturday.
She also danced in the Bermudian-themed production of The Nutcracker put on by the In Motion School of Dance last month.
Neena has been dancing with the school for the past 13 years and is at the senior level.
The M5 student, from Smith's, said: "I've been dancing for as long as I can remember. I do ballet, pointe, jazz, modern and hip-hop. I do ten hours a week."
Neena said she has to be really organised and make the most of any free time she has to manage this on top of her school commitments and other activities.
She added: "I think that's one thing that is going to prepare me well for my later life."
Neena was awarded both scholarships by the Nancy Campbell Scholarship Foundation and plans to attend the performing art school when she graduates from Somersfield Academy later this year.
She will spend the next two years at the school in Stratford, Ontario, to finish her high school education.
"As a school it's focused a lot on using the arts to give back to the wider community," Neena said.
"So there will be activities such as dance workshops, where we will travel to different places and be able to put on performances for different schools and communities.
"The main focus of the school is using the arts to empower its students and help them build their moral leadership qualities."
Although she hasn't decided which university she would then like to attend, Neena knows she wants to write for a living.
She said: "I like being able to build worlds and play with what I am allowed to do, because when you are writing there aren't really any rules.
"I feel that is a lot more free than other forums of art."
For her personal project, which she has to complete to obtain her International Baccalaureate certificate, she chose to write a book.
Meta Noia: A Story of Change will be showcased at the Personal Project Fair at Somersfield Academy on February 21.
Neena said: "It's a series of short stories about a spiritual journey that I went through last summer and that I felt was really important to me and I wanted to share the experience I had with other people.
"It's about how a specific experience that I had over the summer really helped shape a change in my mental state, which is something that I felt was really important going into such an important year in my academic life, that being able to go somewhere and have such a positive impact on who I was as a person and my outlook on the world.
"I thought that was really inspiring and I'm always going to hold dear to me for the rest of my life."
Neena is also creating artwork for the book, which will be about 120 pages long.
She added: "Published copies are going to be for sale at the personal project fair and also hopefully on Amazon."